Electric cars are growing in popularity every year in Ireland, people usually buy one as a second car. Electromobility is being promoted by the Irish government, car companies and many media outlets.
Therefore, it is not surprising that more and more people are thinking about buying an electric car. According to CSO, there are now thought to be over 45,000 electric cars in Ireland and 2021 saw 8,646 new electric cars registered – more than twice the number added in 2020.
What is an electric car and how does it work?
An electric car is essentially a car powered by electricity. In many ways it differs from a gasoline car. Electric cars have many different types. An electric car works by using a battery to store energy. When the battery is charged, it can power the car's engine. The engine can then start the vehicle. In reality, electric cars come in a wide variety of different models and types, which include,
Electric vehicle (EV)
Battery electric vehicle (BEV)
Plug-in hybrid (PHEV)
Hybrid (HEV)
Mild electric vehicle (MHEV)
Range-extended electric vehicle (RE-EV)
Hydrogen vehicle (FCEV)
Why an electric car?
Electric cars have many advantages over traditional gasoline cars. One of the key ones is that they are environmentally friendly and generate no emissions while driving. The more electric cars on the road, the better the air quality will be, especially in large cities. Of course, it is important to power the cars with green energy.
They are also much cheaper cars to operate than other vehicles – even when you factor in the higher initial cost of an electric car. These cars are structurally simpler than combustion cars – they have fewer moving parts and are easier to service. As a result, we can count on high reliability and reduced maintenance required for trouble-free miles. Maintenance is also cheaper, and in EVs we can also enjoy slower wear and tear of brake components. With fuel prices constantly rising, the electric car becomes even more attractive. The cost of charging the car is significantly lower than what drivers pay at gas stations. And this is despite also rising electricity prices.
Electric cars are in rapid development today, and current proposals on the market are often the first generation of electrified models. In electric cars, maximum torque is always available. A car powered by blue energy guarantees excellent acceleration. There are many cars on the market that are able to put to shame the performance of many super sport cars like Ferrari or Lamborghini. For example, the Audi RS e-tron GT accelerates from 0 to 100 km/h in 3.3 seconds. The Porsche Taycan Turbo S takes just 2.8 seconds to reach that speed. The Tesla Model S Plaid accelerates to its first 100 km/h from a standing start in a cosmic 2.1 seconds. More and more electric cars can cover 300, more than 500 kilometres or even 700 kilometres on a charge.
Electric motors are almost silent compared to internal combustion engines. This translates directly into improved driving comfort. Thanks to the fact that modern electric cars are built on platforms developed specifically for this type of car, the use of space is optimised. In an electric car, the wheels are usually positioned closer to the edge of the body, and this means a great deal of legroom compared to combustion cars, as well as a much roomier trunk.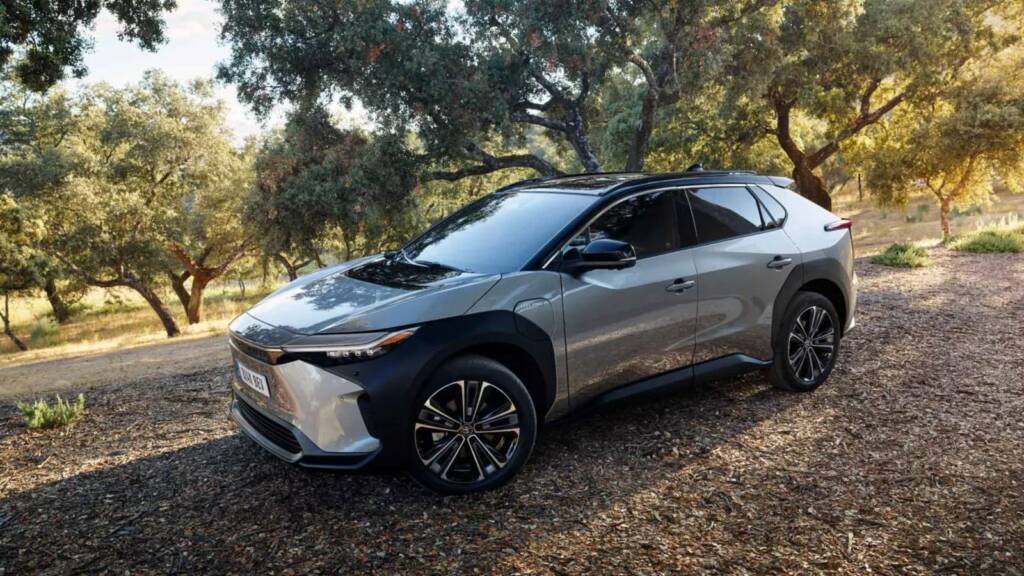 Toyota bZ4X
A real revolution is coming to Toyota's line-up this year. Joining the brand's model range is the bZ4X midsize SUV – Toyota's first global battery-electric model, designed on the all-new eTNGA platform. Available in several equipment versions and in two powertrains, Toyota's electric model is the fruit of this manufacturer's 25 years of experience in developing electrified powertrains. Front-wheel drive or 4-wheel drive, excellent standard equipment and state-of-the-art features are the electrifying combination that makes the Toyota bZ4X likely to win the hearts of customers. Low energy consumption is made possible by streamlined shapes, economical electric motors and a heat pump that is part of the car's standard equipment. It is responsible for efficient heating of the interior with minimal consumption of electricity. The interior of the bZ4X is spacious and comfortable thanks to its long wheelbase. The Toyota bZ4X also remains true to Toyota's typical qualities. Full of cutting-edge technology and reliable, the electric car is meant to last for many years, which is why Toyota ensures that after 10 years of use (or 240,000 kilometres) the battery will maintain a minimum of 90% of its initial efficiency.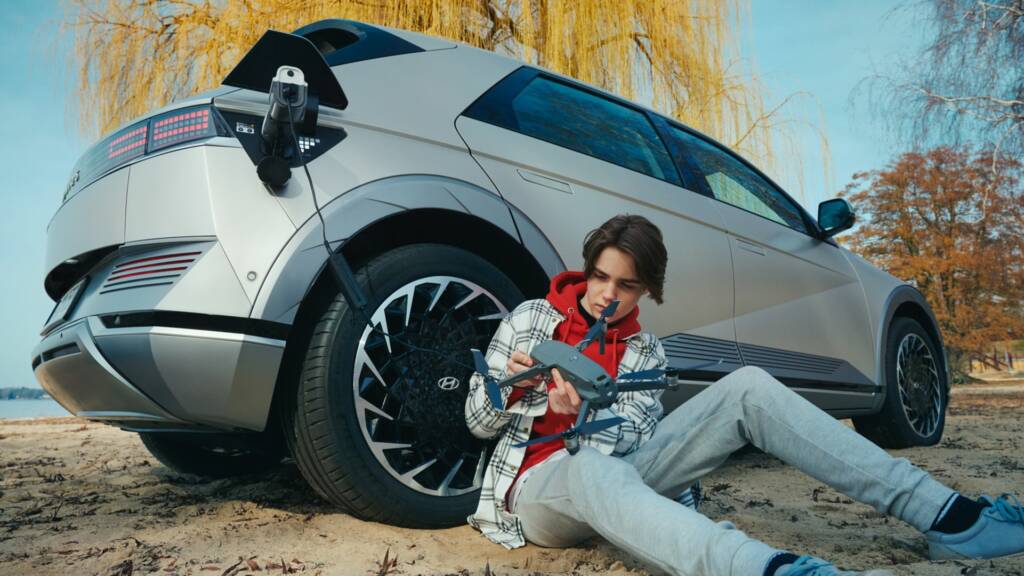 Hyundai Ioniq 5
The Hyundai Ioniq 5 is arguably the best family-sized electric car for sale right now. Don't be confused by pictures, because while the Ioniq 5 looks like a fairly conventional hatchback, in the metal it's closer in size to a compact SUV, and its dedicated EV platform creates lots of space for the modern interior. Hyundai offers two battery sizes and either rear- or four-wheel drive for the Ioniq 5, although as with many of its rivals, if you want the longest range, you need to avoid the top-spec models, which will save you cash in the process. A two-wheel-drive model with the larger 77kWh battery offers the best range of 507km, but since the Ioniq 5 has been designed as an EV from the ground up – rather than being adapted from a petrol model – all versions deliver great efficiency. We also think its retro styling looks great.

Volkswagen ID.5
It's a compact SUV coupe with electric drive. Granted, it's a bit squat, but the ID.5 turns that into an asset. Looking at the car from the side, it's not only the roofline and the neatly integrated rear spoiler that impress, but especially the front of the car, which looks a bit like a bull looking overhead. We also like the way the headlights transition into the horizontal grill strip. For an SUV, and in general for a compact car with a height of 161 cm, the Volkswagen ID.5 is very aerodynamic. Its drag coefficient is only 0.26.
As you can see, electric cars have a lot of advantages. They improve driving comfort and do not pollute the environment. There is a large selection of them in different price ranges. Above we have selected only 3 out of dozens of different ones. We hope you are now more willing to consider choosing an electric car. And perhaps the fact that taxi drivers are adopting electric cars recently for a cheaper taxi insurance but also for all the benefits described here, it shows how reliable and cheap to run they are.
If you own or plan to buy an electric vehicle, Insuremycars.ie is offering excellent electric vehicle insurance, just fill out our online quote form for a competitive price.
We can also recommend this good read on Volkswagen Caddy Vans or this article on Electric Vans if you're looking for a popular commercial vehicle, in which case you can equire about van insurance at Insuremyvan.ie.